The Kick-off meeting of HYPOP – Hydrogen Public Opinion and Acceptance, the project funded by the European Horizon Europe program with the aim to raise awareness and trust towards hydrogen technologies and their systemic benefits, took place last 21st of June.
The project, lasting 2 years, involves 8 partners and 6 countries: together with Environment Park as coordinator, the Consortium is composed of three other national clusters dedicated to hydrogen (Cluster Tweed, Regional Pomeranian Chamber of Commerce with the Cluster of Hydrogen Techologies, BH2 – Balkan Hdrogen Cluster), three research centers (IMDEA Energy, CNH2 – National Hydrogen Center, IMI – Institute of Methods Innovation) and the Agency for the Promotion of European Research (APRE).
HYPOP will achieve its objectives through two main actions and project's outputs:
the development of guidelines and good practices that help to better define how citizens, consumers/end-users and stakeholders can be involved in the implementation of hydrogen technologies.
the creation of a web platform that collects communication material, mainly videos, on new hydrogen technologies and developed through interaction activities with the public (workshops and demonstrators).
The project aims to involve citizens on the one hand, technicians on the other (first responders, competent authorities, certification bodies) promoting co-design and collaboration between the parties to pursue the ultimate objective of social integration of hydrogen technologies. Scientific community, communicators and media will be additional beneficiaries with which to share the results derived from the activities of HYPOP, divided into three main phases: analysis of public understanding of hydrogen technologies and fuel cells as well as technical stakeholders' requirements, involvement of citizens and stakeholders in workshops and demonstrations, final production of 4 guidelines for citizens and stakeholders.
HYPOP also plans to collaborate with demo projects and hydrogen valleys to support the social public understanding analysis and the involvement of stakeholders in the installation and demonstration of hydrogen technologies considering pilot cases.
In this regard, the project starts with a CALL TO ACTION: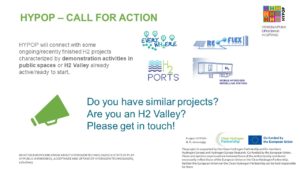 The call to action was also promoted during the webinar of the last July 7, organized by the Clean Hydrogen Partnership, in which the coordinator Ilaria Schiavi officially presented HYPOP, and in which the results of the European survey investigating public opinion on hydrogen technologies were presented.
For further information on the project and future activities, please contact:
Ilaria Schiavi, ilaria.schiavi@envipark.com
Marianna Franchino, marianna.franchino@envipark.com